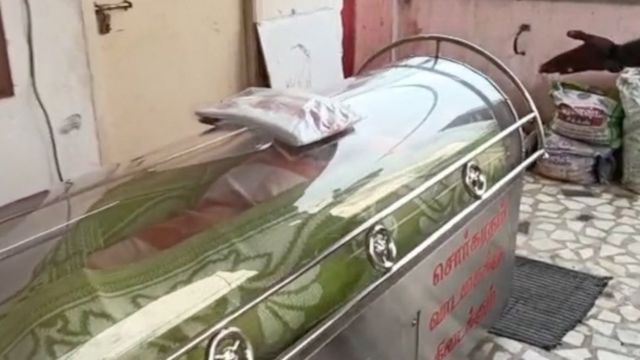 One 74 year old man wey dem mistakenly declare dead come put am for mortuary freezer for Tamil Nadu state, don die some days afta dem rescue am. His family took him to hospital on Monday though doctors could not find anything wrong with him, the Metro reported.
Kumar was kept there for 20 hours until undertakers came to collect the body for the funeral the following day and found that he was still moving and gasping for air, the Metro added.
Dr Balajinathan told BBC Tamil that the patient was admitted in a drowsy condition and died of lung-related problems.
On Tuesday, Kumar's kin, allegedly presuming him to be dead, kept him in a freezer box for over 12 hours. Nearly an hour later, a death certificate was issued declaring it to be a home death based on information given by relatives of the patient.
Salem police chief Senthil Kumar, say di family neva fit produce di medical certificate for im death. As per reports, a case has been registered against the victim's family for negligence.
When they returned home, he stopped moving and thinking that he had died, his family called for a freezer box to be delivered so that they could preserve his body to perform his last rites.
The district administration has ordered a probe against the private hospital which issued a death certificate when Kumar was alive.
Dem don register case against di family for "acting rashly or negligently to endanger human life".
Mr Balasubramanyam lived with his wife, two daughters and his brother.
On Tuesday, the undertakers who arrived to collect the "body" found him alive and shivering in the freezer. They called in the police.
The funeral company said they were told by Mr Balasubramanyam's brother that he had "a signed letter of a doctor regarding his demise".