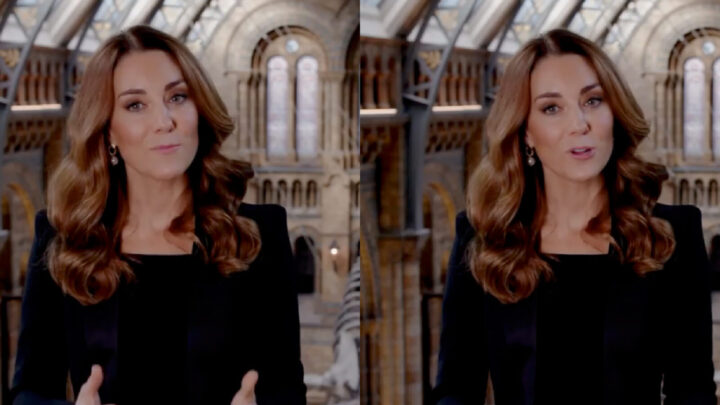 We've seen Kate Middleton step out in glamorous gowns, sailor trousers, and a bunch of striped shirts, but when we spotted the sleek black suit she wore for a recent appearance?
The Duchess of Cambridge stunned everyone with her unique sartorial choice while announcing the victor of this year's Wildlife Photographer of the Year competition with the award's first virtual ceremony.
In a new video, Kate heralds the fact that London's Natural History Museum - home to dinosaur skeletons and graphic presentations of the world's creatures and geography - is open for business after it closed earlier this year amid the ongoing coronavirus pandemic.
The Natural History Museum has recently reopened after closing due to the COVID-19 crisis sweeping across the world.
Earlier also in the year 2014, Kate Middleton announced the grand title winners for celebrating it's 50th and now it's gonna be its 56th time.
Though slightly different to her usual outfits, the 38-year-old exuded confidence and grace, with her hair styled in soft waves and handsome pearl earrings to accessorise.
Kate was filmed in the museum's famous Hintze Hall ahead of the virtual awards ceremony on Tuesday night. The Duchess of Cambridge switched up her signature look to reveal that she will take part in a virtual awards ceremony for the wildlife photographer of the year.
Thank you to everyone for showing us the magic of nature and reminding us that taking care of our environment and its precious biodiversity has never been more important.
The museum's Wildlife Photographer of the Year is the world's longest-running and most prestigious annual wildlife photography competition, with more than 49,000 entries from across the globe.
The victor has been selected from over 49,000 entries from around the world by a panel of worldwide experts, this year's winning images will be exhibited at the Natural History Museum on 16 October 2020 before touring across the United Kingdom and internationally.
The ceremony can be watched on YouTube at 8pm tonight.
It comes after the Natural History Museum, along with the neighboring Victoria & Albert Museum and Science Museum, reopened its doors in August.
The Duchess of Cambridge is ready for a night at the museum.
Kate styled her brunette hair in silky curls and opted for a smoky eyeshadow and pale pink lipstick, ensuring her glamorous beauty look matched her power suit.