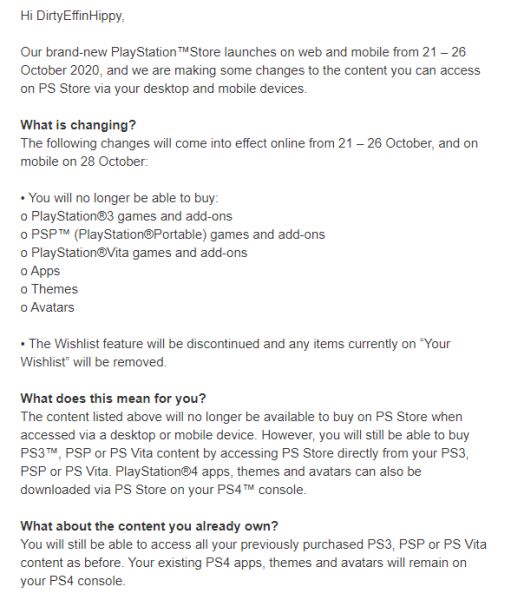 In essence, the main difference between the official announcement and the rumored emails that circulated last week (which were targeted toward developers and partners) is date of the changes to the web PSN store: October 21, 2020 instead of October 19, 2020. You will still be able to buy PS3, PSP and PS Vita content directly from their respective stores, and PS4 apps, themes and avatars will be available via the PS4's built in PS Store. Sony has started to inform its users of its decision. The change in mobile will take place on October 28th. However, from then on, consumers will no longer be able to buy games for PlayStation 3, PlayStation Vita and PSP.
However, this does not mean that Sony's legacy consoles can not be purchased digitally.
Additionally, the Wishlist feature is being discontinued. Players will be able to access the store via their console and continue to purchase games. Both the web version and the mobile version of the store must complete this process by October 28, after which customers will need to access the PlayStation Store directly through those older consoles to make purchases.
I recently had a real hard time trying to buy Demon's Souls due to the egregious behavior of the PlayStation 3 store app. The games that players have registered in this list will also be removed in the new period. Any previously purchased content will be accessible as before.