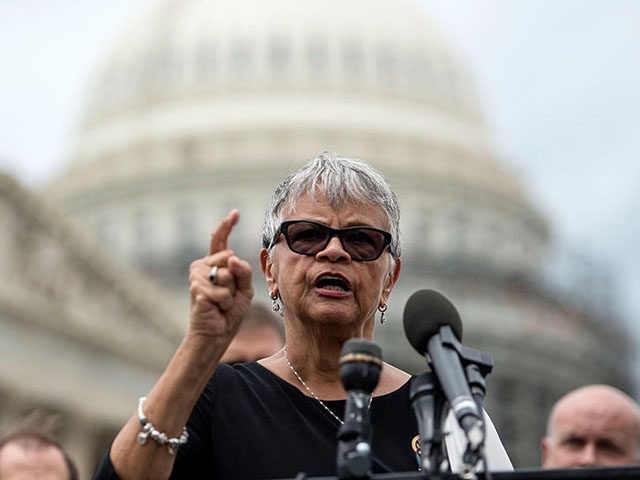 Rep. Bonnie Watson Coleman, a 75-year-old cancer survivor, headed to the hospital for Covid-19 treatment on Monday after testing positive for the coronavirus and becoming mildly ill following last week's shelter-in-place with maskless Republican lawmakers at the U.S. Capitol during the attack by a militant pro-Trump mob.
U.S. lawmakers were locked down for several hours in the Capitol after it was stormed by a mob of supporters of President Donald Trump who were seeking to disrupt the certification of Biden's election victory.
Coleman also tested positive after taking shelter in a room with lawmakers who had refused to wear masks. She indicated Monday afternoon that she is experiencing mild symptoms.
In video posted soon after, Democratic congresswoman Lisa Blunt Rochester from DE is seen offering masks to her bare-faced Republican colleagues.
Coleman's announcement comes after the Office of Attending Physician warned that House lawmakers may have been exposed to someone who has since tested positive during the lockdown.
During Wednesday's attack on Capitol Hill by a mob of unruly Donald Trump supporters, lawmakers were rushed to an undisclosed location and held together for their own safety.
In an interview with The Cut, published last week, she said she was quarantining because she was convinced the room she'd been in, "where there were over 100 people and many Republicans not wearing masks, was a superspreader event".
He said "individuals may have been exposed to another occupant with coronavirus infection".
She tweeted, "Following the events of Wednesday, including sheltering with several colleagues who refused to wear masks, I made a decision to take a Covid test". Marjorie Taylor Greene, R-Ga., Andy Biggs, R-Ariz., Markwayne Mullin, R-Okla., Michael Cloud, R-Texas, and Scott Perry, R-Pa., refuse to wear masks offered to them by Blunt Rochester.
"It's what I would call a COVID super spreader event".
She is the second member of Congress to test positive following the riot.
Rep. Chuck Fleischman, R-Tenn., said he tested positive on Sunday but a spokesperson likewise told the Post that he was not in the room in question.
"We're going to see chains of transmission come out of that kind of a gathering for sure", former Food and Drug Administration Commissioner Scott Gottlieb told the CBS News programme Face the Nation on Sunday. 'I think it is irresponsible.