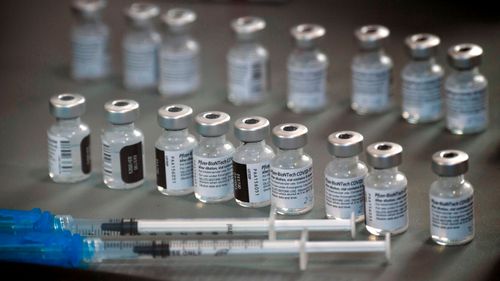 While touring one of the company's cold-chain logistics facility, Deputy Prime Minister Michael McCormack said the nation was about to embark on "one of the largest logistic tasks Australia has ever undertaken".
Mr Hunt said 80,000 doses of the shipment would be released in the first week, with the remainder to be kept aside for second doses.
Priority will be given to hotel quarantine workers that are most likely to come into contact with positive worldwide arrivals.
Health care, aged care and quarantine workers will be among the first to be vaccinated from February 22.
The Therapeutic Goods Administration will then complete final testing of the vaccines before they are taken to hospital hubs and directly to aged care centres, with hospitals told to be ready to administer the first jabs from February 22.
It forms part of a $31 million plan to disseminate public information related to the coronavirus vaccine.
Earlier in the day, opposition health spokesman Mark Butler criticised the government for not rolling the vaccines out sooner.
"We know from all of the research that what Australians want to know is that safety has been prioritised above all else", he said.
"It's a free country and anybody can take a different view", he said.
Australia has secured more than 150 million doses of various vaccines.
Australia is contracted to receive 20 million Pfizer doses and to receive or manufacture at home 53.8 million AstraZeneca doses.
Australia is also part of the global COVAX facility, which provides access to a range of vaccines in order to immunise up to half of the population.