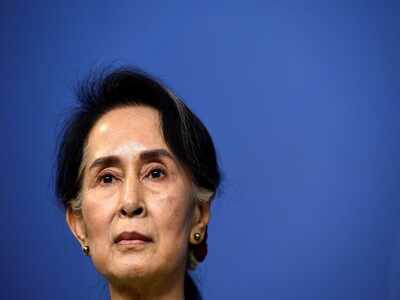 The military has steadily escalated efforts to quell an uprising against their seizure of power two weeks ago, which saw civilian leader Aung San Suu Kyi detained along with hundreds, including members of her democratically elected government.
Suu Kyi's detention was due to expire on Monday, but her lawyer, Khin Maung Zaw, said that a judge at a court in the capital, Naypyitaw, said she was remanded until February 17.
Police in Myanmar have filed a new charge against ousted leader Aung San Suu Kyi, her lawyer said Tuesday, which may allow her to be held indefinitely without trial.
Violence this time has been limited but on Sunday, police opened fire to disperse protesters at a power plant in northern Myanmar although it was unclear if they were using rubber bullets or live rounds and there was no word on casualties. Police were cracking down on the demonstrators against Myanmar's military takeover who took to the streets in defiance of new protest bans.
It added: "We denounce the military's interruption of communications as well as the restriction of Myanmar people's fundamental rights and basic legal protections".
On Feb. 14 evening, armored vehicles were seen in commercial hub Yangon, Myitkyina and Sittwe in Rakhine state, according to media reports.
The people gathered to make their voice heard despite the presence of armoured vehicles on the streets of Yangon, the country's largest city, and other locations since Sunday.
As well as mass protests, the military rulers face a strike by government workers, part of a civil disobedience movement that is crippling numerous functions of government. In front of the central bank, participants called for bank employees to join the civil disobedience movement. An armoured vehicle and about six trucks carrying soldiers were parked nearby.
Police in Naypyitaw detained about 20 high school students protesting by a road. China did, however, join other UN Security Council members in calling for the release of Suu Kyi and others.
The government and army could not be reached for comment.
"Whether it is fair or not, you can decide yourself", Khin Maung Zaw said. The army has been carrying out nightly mass arrests and on Saturday gave itself sweeping powers to detain people and search private property.
The junta, led by Senior Gen. Min Aung Hlaing, said it stepped in because the government failed to properly investigate allegations of fraud in last year's election, which Suu Kyi's National League for Democracy party won in a landslide. At least 400 people have been held, the monitoring group Assistance Association for Political Prisoners said.
NetBlocks, which tracks Internet disruption, said on its Twitter account that connectivity was being restored as of Monday morning, but that social media was shut down for eight hours from 1:00 a.m.
The Nobel laureate, who spent years under house arrest for opposing an earlier dictatorship, has been charged under an obscure import law for possessing unregistered walkie-talkies at her home.
The judge also told him that her trial will be conducted via video conferencing. The electoral commission had dismissed the army's complaints.
The coup has been internationally condemned with a joint statement from the US, British and European Union ambassadors urging Myanmar security forces not to harm civilians.
Suu Kyi's extended detention is likely to raise tensions between the military, which seized power in a coup on February 1, and demonstrators.