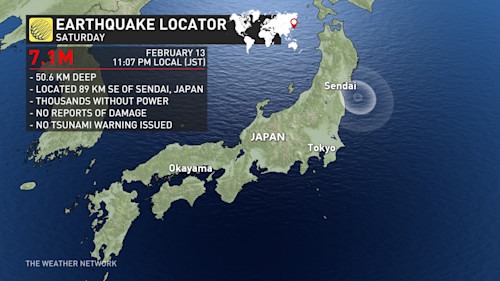 The area in northeastern Japan suffered a devastating Tohoku quake in 2011 that severely damaged the Fukushima Daiichi nuclear plant.
Saturday's quake, with a magnitude of 7.1, had an epicenter off the coast at a depth of 60 kilometers (30 miles) the Japan Meteorological Agency said, adding there was no risk of a tsunami.
The epicentre of the quake was off the coast of Fukushima prefecture at a depth of 60km, the agency said, adding that a tsunami warning had not been issued. Items fell off shelves because of the shaking, NHK said.
Kato said that some trains in northeastern Japan had stopped running, and that other damage was still being checked.
In March 2011, Fukushima and other areas in the northeast of the country were hit by a magnitude-9 natural disaster and tsunami, leading the Fukushima Daiichi nuclear power plant to suffer core meltdowns.
Chief Cabinet Secretary Katsunobu Kato addressed reporters after midnight and said evaluations were under way.
Renowned author Yu Miri, who lives in Fukushima's Minamisoma city, tweeted a photo of her home, showing books, potted plants and other belongings strewn across the floor.
"I hear the ground rumbling". It was not immediately clear if anyone was hurt.
The tremor struck 70 km east-northeast of Namie, Japan, registering at a fairly deep depth of 50.6 km, according to the United States Geological Survey (USGS).
Earthquakes are common in Japan, which lies close to the Ring of Fire, a region around the Pacific Rim where the earth's tectonic plates meet.
In September 2018, a powerful 6.6-magnitude quake rocked Hokkaido, triggering landslides, collapsing houses and killing more than 40.