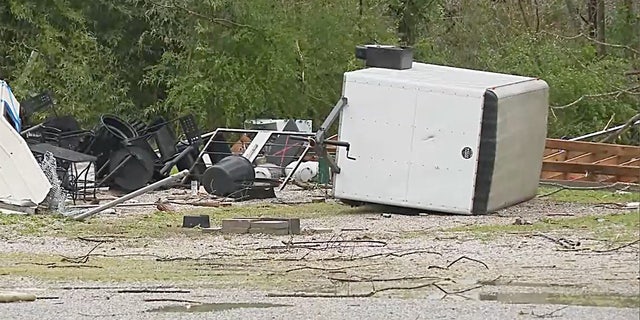 A tornado hit small communities south of Birmingham, Alabama, on Thursday and inflicted extensive damage, including to numerous homes and a civic centre, police said, as a giant supercell is expected to spawn further twisters in the US south.
WIAT reported a "large, rain-wrapped tornado", with "multiple calls for assistance right now", tweeted meteorologist Craig Ceecee. "Please stay off the road and do not go into tornado damaged areas". "Tragically, we are receiving reports of loss of life".
A cluster of tornadoes swept through the southern U.S. state of Alabama.
After sharing the news with viewers, Spann put his personal problems aside to warn residents of the tornadoes path. Unfortunately, the day is not over yet.
Officials said risky weather was expected to continue through the night. Several long-track strong tornadoes, destructive winds and large hail are forecasted.
Damage is seen to a home after a tornado passed through the Eagle Point subdivision, Thursday, March 25, 2021, near Birmingham, Ala.
Severe tornadoes struck Alabama as Southern states are bracing for a second round of high risk tornado threats.
Those areas have a level 5 out of 5 "high risk" of severe thunderstorms, with the potential to yield damaging winds up to 80 miles per hour.
"Nothing is good about this", said Spann as he tracked another "violent" tornado through Bibb County at 5:15 p.m. "Nothing".
Some of the major metropolitan areas in the path of Thursday's storms include Memphis and Nashville in Tennessee; and Birmingham and Huntsville in Alabama.
Some schools in the South closed or switched to virtual learning Thursday as severe weather threatened.
Others were injured and thousands lost power from the powerful tornadoes, part of a series of storms that roared through the South.