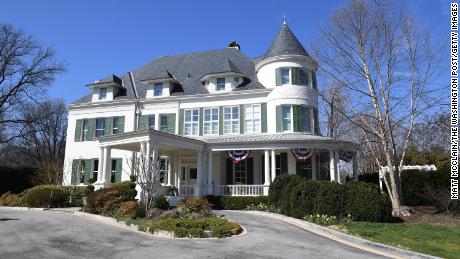 Vice President Kamala Harris speaks to local business owners as they take part in a roundtable at Maria Empanada on South Broadway Street on Tuesday, March 16, 2021, in Denver.
The Naval Observatory is lit up at night in this November 2020 photo. Harris does not yet live at the residence inside the US Naval Observatory because renovations are taking place, ABC 13 reports, and the Secret Service says none of its protectees were there at the time.
NBC 4 News reporter Scott MacFarlane reported Wednesday that another attacker of the U.S. Capitol was arrested, but the man appears to have been outside the residence of Vice President Kamala Harris in Washington, D.C.
Paul Murray, a 31-year-old resident of San Antonio, Texas, was initially detained by the U.S. Secret Service and later arrested by MPD officers.
When police found the man's vehicle in a D.C. garage, it was loaded with "a long gun, a large amount of ammunition and several gun clips with ammunition", said MacFarlane. She is residing at Blair House. No one was injured in the incident.
Uniformed Division officers had detained the man before the Metropolitan Police arrived on the scene, according to the US Secret Service.
It wasn't clear if Murray had an attorney who could comment on the charges against him.