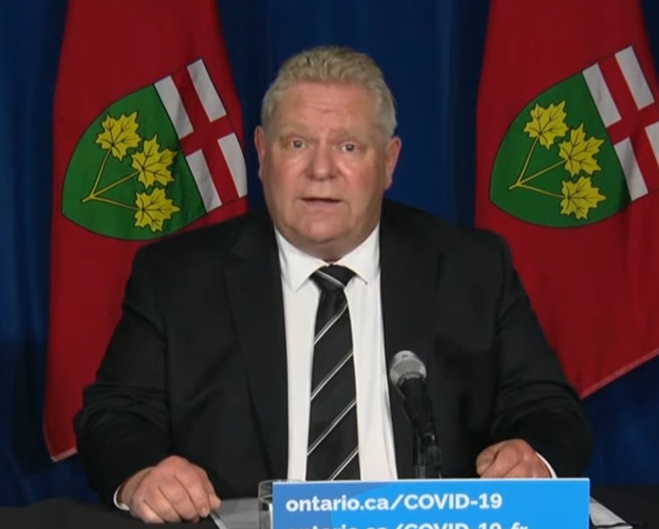 Speaking from a pop-up vaccine clinic at BAPS Shri Swaminarayan Mandir, Premier Doug Ford said Ontario has the infrastructure in place to distribute millions of doses a month, encouraging all those who are eligible to book their vaccines as soon as possible.
The Province is cancelling all in-class instruction in Ontario schools after reading week.
At a news conference Monday afternoon, Premier Doug Ford and Education Minister Stephen Lecce announced that students will switch to full remote learning when the break ends. "As I have always said we will do whatever it takes to ensure everyone stays safe".
Students in Ontario will be shifting to remote learning after the April Spring break.
Minister Lecce still maintained on Monday that both schools and child care setting "have been safe". "By keeping kids home longer after spring break we will limit community transmission, take pressure off our hospitals and allow more time to rollout our COVID-19 vaccine plan".
Before and after school programs will also be shuttered.
Ontario has said it will offer COVID-19 vaccines to residents aged 18 and older in hot-spot postal codes, starting with the hardest-hit neighbourhoods in Toronto and Peel Region. The province will work with local public-health units, community groups, and religious organizations to operate mobile or pop-up clinics in areas with the highest historical or current prevalence of COVID-19.
No timeline has been set for when students might resume in-class instruction - with Ford saying that will be decided based on COVID-19 data.
A return date for in-person learning has not been identified. The Ontario government added a COVID-19 field hospital at Oakville Trafalgar Memorial Hospital to accommodate 40 patients.
Quebec reported a 22-person jump in the number of hospitalizations on Monday, after an increase of 25 the day before.
Chief Medical Officer of Health Dr. David Williams said Ontario's surge in COVID-19 cases is being impacted by gatherings on Easter weekend.
The number of people in intensive care with COVID-19 rose by 14, to 619, with 408 of them needing to be placed on a ventilator.
Over the next several weeks, the province will also be prioritizing workers, teachers, and other education workers in hot spots.
Health Minister Christine Elliott says the government is exploring its options to boost hospital capacity and staffing levels as variants of concern wreak havoc on the province.