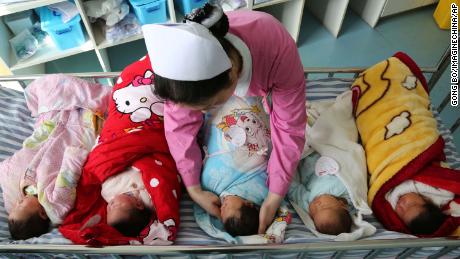 China has announced that each couple would be permitted to have up to three children, marking a major policy shift from the existing limit of two children, after recent data showed a dramatic decline in births in the world's most populous country.
A census released this month showed China's population grew at the lowest pace in decades, reaching 1.41 billion. The policy was complex and differed between different regions and social groups, but it generally encouraged couples to have just one child through a substantial financial penalty called "social child-raising fee".
In order to reduce economic risks stemming from the rapidly aging population, China introduced the two-child limit policy in 2016 after its one-child policy that had been practiced for decades.
The Chinese Communist Party's top leadership made the decision at a meeting on Monday, state media said, in a move created to combat the country's aging population.
The new policy change will come with "supportive measures, which will be conducive to improving our country's population structure, fulfilling the country's strategy of actively coping with an aging population".
China, along with Thailand and some other Asian economies, faces what economists call the challenge of whether they can get rich before they get old.
China's politburo also said on Monday that it would phase in delays in retirement ages, but did not provide any details.
The share of working-age people 15 to 59 in the population fell to 63.3 per cent past year from 70.1 per cent a decade earlier, according to the census data.
Last year, there were around 12 million births, the lowest number since 1961.
China's fertility rate stands at 1.3 - below the level needed to maintain a stable population, the National Bureau of Statistics revealed.
"A fully liberalised birth policy should have been implemented at least five years ago, but it's too late now, although its better late than never", he said.
One bright spot in the data was an unexpected increase in the proportion of young people - 17.95 per cent of the population was 14 or younger in 2020, compared with 16.6 per cent in 2010.
The government said the policy prevented about 400 million births.
Surging living costs in big cities, where most Chinese now live, have also deterred couples from having children.
Restrictions that limited most couples to one child were eased in 2015 to allow all to have two. But who wants to have three kids?
As well as adding pressure on China's working-age population and weighing on productivity, a diminishing pool of working adults will also test China's ability to pay and care for an ageing nation.