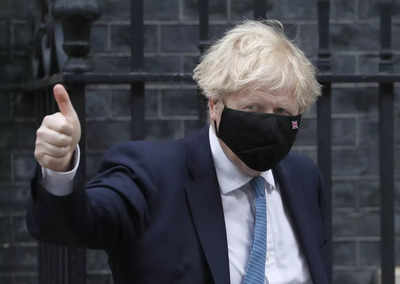 DOMINIC CUMMINGS has launched a scathing attack on British Prime Minister Boris Johnson and the wider United Kingdom government for failing to adequately manage the Covid-19 crisis.
But he said that even after almost dying himself from the virus weeks later, the prime minister declined to learn from mistakes and ignored scientists' advice in September to introduce a second lockdown, leading to many more deaths over winter.
The U.K. has recorded nearly 128,000 coronavirus deaths, the highest toll in Europe, and experienced one of the world's deepest recessions in 2020 as three successive lockdowns hobbled the economy.
Committee chairman Greg Clark told Mr Cummings he should provide written evidence to back up his claims about Mr Hancock, who will be questioned by the committee in two weeks' time. He also hit out at Johnson's leadership, assessing the crisis as a case of "lions led by donkeys over and over again".
Cummings, who left Johnson's government a year ago, apologised for his own failure to act earlier to prevent the more than 120,000 people in the United Kingdom who have died of the coronavirus, saying the government was "lions led by donkeys".
In response, Mr Johnson told parliament he took "full responsibility" but insisted decision-making during the pandemic had been "appallingly difficult" and the government "acted throughout with the intention to save life.in accordance with the best scientific advice".
"When the public needed us most the government failed", he said, adding an apology "to all the families of those who died unnecessarily".
Cummings' seven hours of testimony to Parliament's science and health committees, who are investigating Britain's pandemic response, gave a dramatic taste of what might come out.
But he blasted senior United Kingdom officials and politicians for initially missing the seriousness of the situation, and once they did grasp it, of inept decision-making, comparing Mr Johnson's approach to an out-of-control shopping trolley.
The former chief aide said Boris Johnson had initially dismissed Covid as a "scare story" and the United Kingdom had been too slow to lock down.
He accused officials of "catastrophic" group-think, pursuing a haphazard strategy of so-called herd immunity before belatedly abandoning it when the likely death toll became clear.
Cummings also said the country's top civil servant had told him he had lost confidence in Hancock's honesty.
Cummings - who resigned in November 2020 - relayed comments made by deputy cabinet secretary Helen McNamara, who Cummings referred to as "the second most powerful official in the country".
Cummings repeated an allegation, which Johnson has denied, that the prime minister late past year said he would rather "let the bodies pile high" than impose a second lockdown.
He said Johnson told him, "I should have been the mayor in "Jaws" and kept the beaches open".
By March, he said the government was consumed by chaos that Cummings said "seemed like an out-of-control movie".
Health Secretary Matt Hancock says he did not watch all of Dominic Cummings' testimony to MPs today because he was dealing with the vaccination rollout and "saving lives".
"We absolutely reject Mr Cummings' claims about the Health Secretary", the spokesman said. Cummings said there was no COVID plan and certainly no plan for a lockdown.