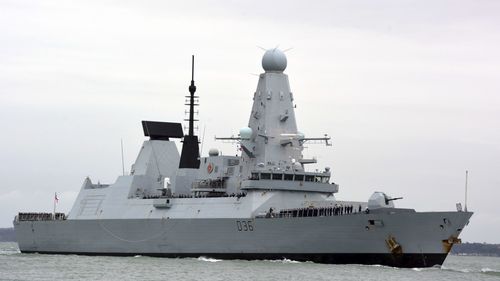 A UK Defence source told The Telegraph: "Defender was transiting, she was being shadowed by some small patrol boats and aircraft and the Russians asked her to leave where she was - they did not want her to be so close to Sevastopol, their Black Sea base".
The Russian ministry said its warship fired warning shots after the British missile destroyer HMS Defender had ignored a notice against intrusion in Russia's territorial waters.
A Russian jet also dropped bombs in its path as a warning, according to the Interfax news agency which was citing Russia's defence ministry.
The HMS Defender "was given a preliminary warning that weapons would be used if the state borders of the Russian Federation were violated".
The UK instead said it believed the "Russians were undertaking a gunnery exercise in the Black Sea and provided the maritime community with prior-warning of their activity".
"No shots were directed at HMS Defender and we do not recognise the claim that bombs were dropped in her path", the statement said.
North Atlantic Treaty Organisation members Turkey, Greece, Romania and Bulgaria all are on the Black Sea but warships from the US, UK and other North Atlantic Treaty Organisation allies also have made increasingly frequent visits in a show of support to Ukraine.
Ukraine's Foreign Minister Dmytro Kuleba on Wednesday slammed Russia's "aggressive and provocative policy" in the Black Sea region, describing it on Twitter as a "constant threat" to Kiev and its allies.
Passing Istanbul on June 10th, Defender was at the Ukrainian port of Odessa by June 18th in company with a Dutch Frigate.
The firing of warning shots and dropping of bombs would have marked the first time since the Cold War Moscow had used live ammunition to deter a North Atlantic Treaty Organisation warship, reflecting growing risks of military incidents amid soaring Russia-West tensions.
The U.S. Naval Institute's news website had reported Monday that HMS Defender's and another North Atlantic Treaty Organisation warship's open-source intelligence data was faked to make it appear as if they sailed directly to the headquarters of Russia's Black Sea Fleet.
The exercises, it said, are created to underline allies' commitment to preserving the freedom of navigation and reassure Ukraine, Georgia and Romania of its support in the region.
Most countries still recognize Crimea, which Moscow annexed in 2014, as part of Ukraine.
Joe Biden meets Vladimir Putin on 16 June.
Relations have been deteriorating for years, notably with Russia's 2014 annexation of Crimea from Ukraine, its 2015 intervention in Syria and USA charges - denied by Moscow - of meddling in the 2016 election that brought Donald Trump to the White House. We presume that it is a military organisation.
He said "the world is rapidly sinking in a new confrontation, which is much more risky than during the Cold War times". It is an ally of the United States.
"Russia is in a very, very hard spot right now".