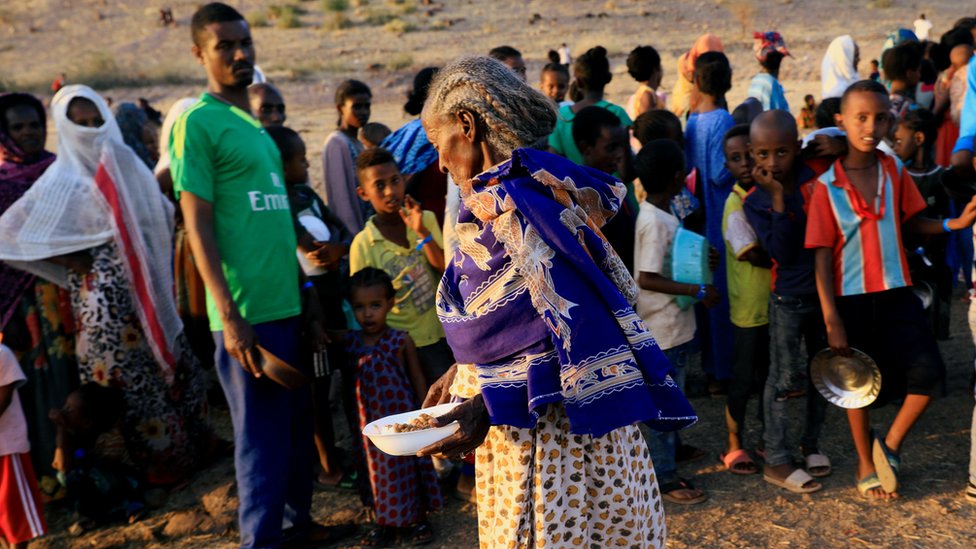 Ethiopia's government has said that rebels have committed "serious crimes" after conflict broke out this month in the northern Tigray region, as US President-elect Joe Biden's foreign policy adviser called for greater protection of civilians.
A statement from Tigray's self-declared president Debretsion Gebremichael on Thursday said the army had "called upon assistance from an outside force, with drones starting to be used in the battle".
Each side regards the other as illegal regards the other as illegal, the result of a falling-out between Nobel Peace Prize-winning Prime Minister Abiy Ahmed and the Tigray leaders who once dominated the country's ruling coalition.
Now, deadly fighting continues in a heavily armed region of some 6 million people, a clash some observers have compared to an inter-state war at the heart of the strategic Horn of Africa.
Meanwhile the United Nations says a "full-scale humanitarian crisis" is unfolding, with 36,000 people having streamed into neighbouring Sudan, according to that country's refugee commission.
Ethiopian Army Chief of Staff, General Birhanu Jula, in a televised address accused Dr Ghebreyesus of supporting and trying to procure arms and diplomatic support for Tigray.
While Abiy's government rejects urgent global calls for dialogue, a humanitarian disaster is unfolding as food, fuel and medical supplies run desperately short in the Tigray region.
Another crisis is growing inside the sealed-off Tigray region as food and other supplies run desperately low. He has been ranked as one of Time magazine's most influential people. In response, Mr Abiy ordered a military offensive, accusing the TPLF of treason.
He says mediation can only happen when the TPLF is disarmed and its leaders arrested.
Regional powers Kenya and Uganda have called for negotiations to find a peaceful resolution to the conflict.
On Tuesday Abiy announced that "in the coming days, the final law enforcement activities will be done".
A senior Tigrayan official, Wondimu Asamnew, said that Tigrayan forces "have adopted a defensive posture on all fronts".
The federal government on Friday asserted that its forces had taken control of the towns of Axum and Adwa in the Tigray region and were advancing east on Adigrat.
Ethiopia has denied TPLF claims that Eritrean soldiers are directly involved in the conflict.
An official in Ethiopia's Amhara state said TPLF forces fired rockets at the regional capital, Bahir Dar, early Friday morning.
The government has accused the TPLF of destroying four bridges leading into Mekele.
Air Force chief Yilma Merdasa told state-affiliated Fana Broadcasting Corporate admitted they were also deploying drones, but denied claims from Tigray that these were coming from overseas.
But diplomats say it is far from clear that federal forces can secure a swift victory, especially as fighting shifts from lowlands to more mountainous terrain.
Ethiopia's military is estimated at 150,000 troops, a figure that does not include special forces and militias.