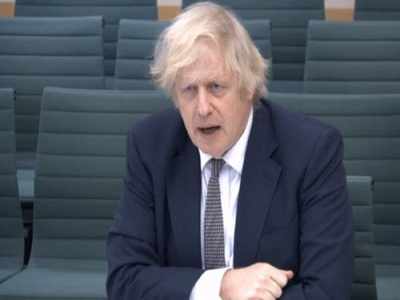 "Despite today's easements, everyone must continue to stick to the rules, remember hands, face, space, and come forward for a vaccine when called".
Outdoor swimming pools, tennis, basketball courts and other outdoor sports facilities will be allowed to reopen.
"But indeed if there are breaches, then the police can intervene and fine and they'll continue to do so where that's the case, but the message very clearly and hence the new message today actually is making sure that it's very much about outdoors and open space".
Johnson said he hopes the easing will "kick-start a Great British summer of sport".
Boris Johnson also encouraged the public to take part in a fitness drive, with an hour of physical activity a day advised for children, and at least 150 minutes for adults.
Glenn Earlam, chief executive of gym chain David Lloyd, which reopened outdoor facilities at 79 of its clubs in England, said people were "just desperate to get out of their houses and go and do something different". "Please follow the new rules carefully so that we can gradually get back to normal together", said Johnson.
However, Johnson admitted that continental Europe's latest COVID wave could hit Britain in about three weeks, The "key difference" in the United Kingdom is the vaccination drive.
"Previous experience has taught us that when a wave hits our friends, I'm afraid it washes up on our shores as well", the Prime Minister told reporters on Monday, as he sought to reassure that Britain would be continuing with its vaccination programme, and there was "nothing in the data to dissuade [him] from continuing on the roadmap to freedom".
This comes as the latest government figures show 3,862 new coronavirus cases and 19 deaths were reported on Sunday - down from 5,312 and 33 a week ago.
Britons have also been reminded by the Metropolitan Police that large gatherings remain unlawful and officers would "continue to respond quickly to house parties or unsafe raves, taking enforcement action by handing out fines".
England is embarking on a major easing of its latest coronavirus lockdown that came into force at the start of the year, with families and friends able to meet up in outdoor spaces and many sports permitted once again.
Johnson announced a third national lockdown in England on January 4, but has said he plans to proceed with a "cautious and irreversible" route out of restrictions, underpinned by a quick rollout of COVID-19 vaccines.
The next step in the roadmap to easing England's lockdown comes on 12 April, which is earmarked for non-essential shops to reopen, as well as outdoor hospitality, including pubs and restaurants.
It is estimated that 57% of the United Kingdom population have now received at least one dose of the coronavirus vaccine, and the latest daily cases have dropped to levels last seen in September 2020. In Wales, thousands of people poured onto beaches and mountain spots on Saturday, after the authorities lifted travel restrictions that have been in place since December.
From April 5, click-and-collect retail services, along with garden centres, vehicle dealerships, homeware stores and barbers and hairdressers, will also be able to reopen.
Unfortunately there are still a large number of restrictions in England, most notably that people are still not allowed to socialise indoors outside their households or support bubbles.