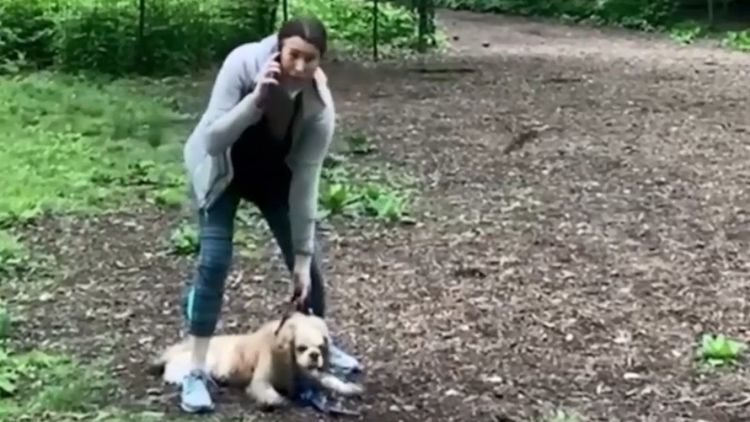 Amy Cooper, the woman who falsely told police that a Black bird watcher had threatened her in Central Park, has sued her former employer for firing her.
This May 25, 2020, file image, taken from video provided by Christian Cooper, shows Amy Cooper with her dog calling police at Central Park in NY.
The confrontation between Cooper and the man, Christian Cooper, who is not related to her, began over her dog being unleashed in a section of the park where that was prohibited.
Prosecutors in Manhattan criminally charged Cooper last summer with falsely reporting an incident in the third degree, but later agreed to dismiss the charge after she completed a five-session therapeutic educational program that included a racial bias component.
Amy Cooper is accusing the company, Franklin Templeton, of not doing an investigation before her termination because of her race and gender.
This image from a May 25, 2020, video provided by Christian Cooper, shows Amy Cooper with her dog talking to Christian Cooper in Central Park in New York City.
Amy Cooper called 911 and said in an increasingly frantic tone that a Black man was threatening her, according to video of the incident he filmed.
"Franklin Templeton's alleged investigation and results provided legitimacy to the "Karen" story, and appeared to provide justification for those who sought the destruction of the Plaintiff's life", says the lawsuit, which was filed in NY federal court on Tuesday and argues that she's the victim of racial discrimination.
Franklin Templeton, part of Franklin Resources Inc, did not immediately respond on Wednesday to requests for comment.
"We believe the circumstances of the situation speak for themselves", the statement said. NBC News does not know what happened prior to the start of the recording, which was shared by Christian Cooper's sister. "We will defend against these baseless claims", the company said in the statement.
The white woman who was recorded on video calling police to claim that a Black bird-watcher was threatening her in New York City's Central Park past year filed suit against her former employer, alleging that the company did not properly consider her fear for personal safety prior to firing her. "I've come to realize, especially today, that I think of [the police] as a protection agency, and unfortunately, this has caused me to realize that there are so many people in this country that don't have that luxury", she said. "I'm going to tell them there's an African American man threatening my life". It said it had completed an internal review and made a decision to terminate her, effective immediately.
"I am one of the few male African-Americans who birds the Ramble regularly", Mr Cooper told The New York Times at the time.
The company instead discriminated against Amy Cooper based on her race and gender, the filing alleged, resulting in a loss of earnings and severe emotional distress.
"Considering that Amy Cooper has already lost her job and her reputation, it's hard to see what is to be gained by a criminal charge, aside from the upholding of principle", he wrote.
Once criticised all over the world for being a racist, Cooper is now accusing her employer of being a racist and is seeking damages for defamation, intentional infliction of emotional distress and negligence, as per Reuters.